Chicago Special: New Restaurants
Between my many recent trips, I have made it a point to get out and try the new and recommended restaurants here in Chicago. Here is a list of my favorite new spots:
Located at 901 W. Armitage is the recent opening of the third Maison Parisienne. They have a great selection of pastries, croissants, baguettes, macarons, sandwiches, quiche Lorraine or croque-Monsieur. You can dine in, take out as well as buy French products including jams, jellies and mustard. The tomato goat cheese quiche was excellent as was the almond and pear tart. It is a short walk from my house, so I have been four times since they opened in early 2023.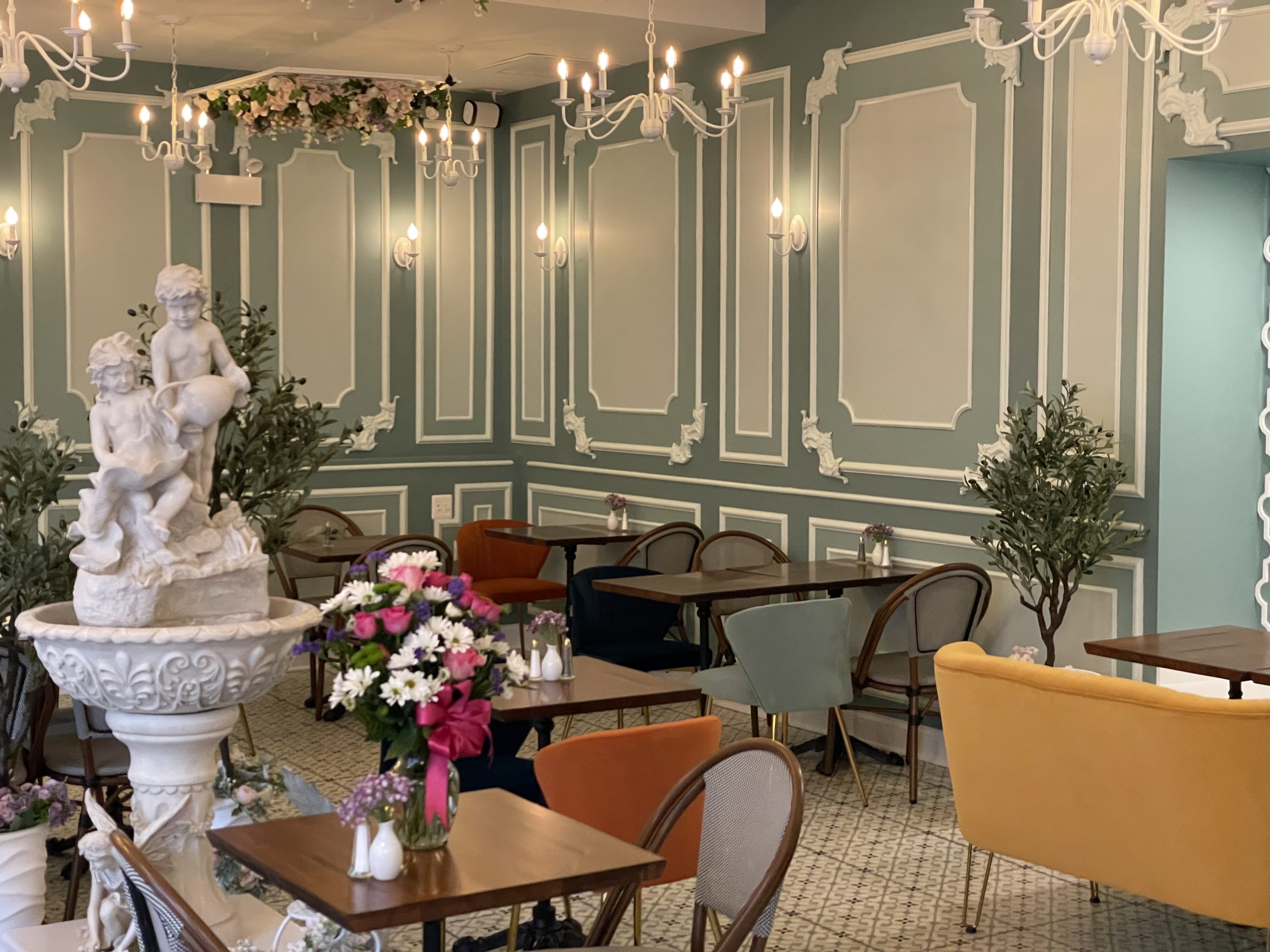 West of the River North Arts District is Obélix which opened in 2022. This is a modern French restaurant from the owners Le Bouchon in Bucktown. I recently went for brunch on a Saturday and loved the atmosphere, the food and the service. The menu has many traditional French dishes. I loved the quiche, salad and tasty almond croissant. Make sure to book in advance as it is popular and often hard to get a reservation. 700 N. Sedgwick St.
Opened in 2022 is the BISTRO MONADNOCK, located downtown in the historic Monadnock Building at 325 S. Federal St. This is a modern French bistro that focuses on traditional preparations of classic French dishes. It also has a 100 bottle French wine list along with classic cocktails. I was excited to meet Executive Chef Johnny Besch, who has spent decades cooking and studying under the guidance of some of the world's great French chefs. He gave us a tour of his kitchen, his wine cellar and cured meat cooler. He even has his family gourmet slicer for his charcuterie from 1921.
It has a classic French design. I enjoyed the French onion soup and the croque madame made with a baguette, mornay sauce, smoked ham and a sunny side up egg. My friend also loved the soup and the escargots. It is open for lunch and dinner. I went for lunch. It is a good spot to eat in town before a concert or performance at the Auditorium Theater, Chicago Symphony, Goodman Theatre or Broadway in Chicago.
Just west of Southport at 3856 N. Ashland Ave. is Tribu Caffe. Opened in June 2023, this is a casual breakfast and lunch spot with a large menu of eggs benedicts, omelettes, breakfast sandwiches, pancakes, waffles, soups, salads, sandwiches, burgers and panini. I really enjoyed the experience! I loved the smoked salmon benedict and talking to the lovely staff who were from Mexico and Ecuador. I can't wait to go back.
Located in the Southport Corridor is Little Goat Diner. This is Top Chef winner Stephanie Izard's casual spot for breakfast, lunch and dinner. It relocated to this new Southport Corridor location from the West Loop on Randolph in April 2023. I had to check it out for lunch. It has a fun menu. Since the shrimp and grits was sold out, I opted for a tasty reuben sandwich. I sat at the counter as there was a huge wait for table both inside and outside. I suggest going early and possibly avoiding weekends. It is located at 3325 N. Southport Ave. in the former Southport Lanes building. In the same building is GG's Chicken Shop by chef Lee Wolen of BOKA restaurant, and Japanese restaurant Itoko by chef Gene Kato of Momotaro.
I made a point to try GG's Chicken Shop on my last visit to the neighborhood to attend a musical at the Mercury Theater. I really enjoyed the chicken burger with caramelized onions, gouda cheese, dill pickles, lettuce and roasted garlic aioli on a brioche bun along with the broccoli slaw made with broccoli, almonds, raisins, dill and lemon poppy seed dressing. They have nice outdoor seating.
In Roscoe Village, Victory's Banner, which I enjoyed in the past for brunch, has closed and was taken over by Lucy's Cafe. They feature a vegan, vegetarian breakfast menu along with soups, sandwiches, wraps, Mexican dishes and flatbreads. I was very impressed with the menu items and my tomato, avocado, and poached eggs benedict, topped with Hollandaise sauce and fresh chives. They also have nice outdoor patio seating. 2100 W. Roscoe.
In Hyde Park, Virtue's Chef Erick Williams opened Daisy's PO Boy and Tavern featuring a New Orleans-inspired menu of southern food. It is a counter-service operation with a full bar. The menu features eight different po' boys with the bread imported from a New Orleans bakery, platters, seafood gumbo and fried chicken. I enjoyed the fried catfish po'boy and the best banana pecan bourbon toffee cake. It was drizzled with caramel and topped with pecans. I highly recommend the food and the casual dining experience. 5215 S. Harper Ave.
I highly recommend that you try Roux. Located next to the University of Chicago campus, Roux is Chef Charlie McKenna's New Orleans and Southern-inspired all day breakfast spot. It is located at 1055 E. 55th St. Having read about it for over six months, I was excited to try it. I went with my assistant, and we really enjoyed the fried catfish and the tasty shrimp and grits. To top it off, I enjoyed the beignets which I had not had since I was at Café Du Monde in New Orleans a few years ago. They also feature biscuits, cinnamon rolls, pecan pie, coffee drinks, biscuits and gravy and other southern specialties.
A great new spot in Logan Square is Daisies. Since I went for the first time, they moved in 2023 to their new, larger location at 2375 N. Milwaukee.
The new space is excellent and is a much better experience. Their pastas are excellent and easily shareable. I highly recommend the cannelloni made with ricotta cheese, spinach and a rich porcini cream and the stracci lamb sugo with soft herbs and pecorino cheese. Equally good was the strawberry panna cotta with strawberries, shortbread, toasted pepitas and strawberry-basil sorbet. It is very popular so make sure to book your reservation before. Also, they are open for coffee and pastries in the morning.
Also located in Logan Square at 2043 N. Milwaukee is Stay Cafe. This is a breakfast, brunch and lunch restaurant that opened in November 2022. I went for brunch on a Saturday after reading great reviews. They also have a coffee bar and bar featuring cocktails. I was very impressed with their large menu of breakfast sandwiches, benedicts, omelets, pancakes, burgers, sandwiches, salads and wraps. They also have a kid's menu. I loved my smoked salmon eggs benedict and a side of roasted Yukon potatoes made with pecorino aioli and scallions.
Located at 215 E. Ohio, is the Streeterville location of MingHin Cuisine. This is the third location I have visited of this local popular Chinese restaurant that specializes in dim sum and Cantonese food. I recently went with a local friend and enjoyed sharing several dim sum dishes. I loved the elegant décor.
On my recent trip to visit Ukrainian Village, I enjoyed my lunch at Old Lviv, a casual, old-world spot serving a buffet of hearty Ukrainian fare such as stuffed cabbage, soups including borsch, mashed potatoes, goulash, pork schnitzel, roast chicken, cheese blintzes, battered fish, and an assortment of salads. You can also order pierogies, coffee and other drinks. I was glad that I chose the restaurant. It is family-owned with all food made from scratch. I was happy to have met the owner's son. I recommend it for anyone looking for a taste of authentic Ukrainian cuisine in Chicago. 2228 W. Chicago Ave.
A short walk or drive south of Montrose Beach is the Clocktower Café at 3701 N. Recreation Dr. It overlooks the Sydney R. Marovitz Golf Course and is near the Waveland Park Tennis Courts.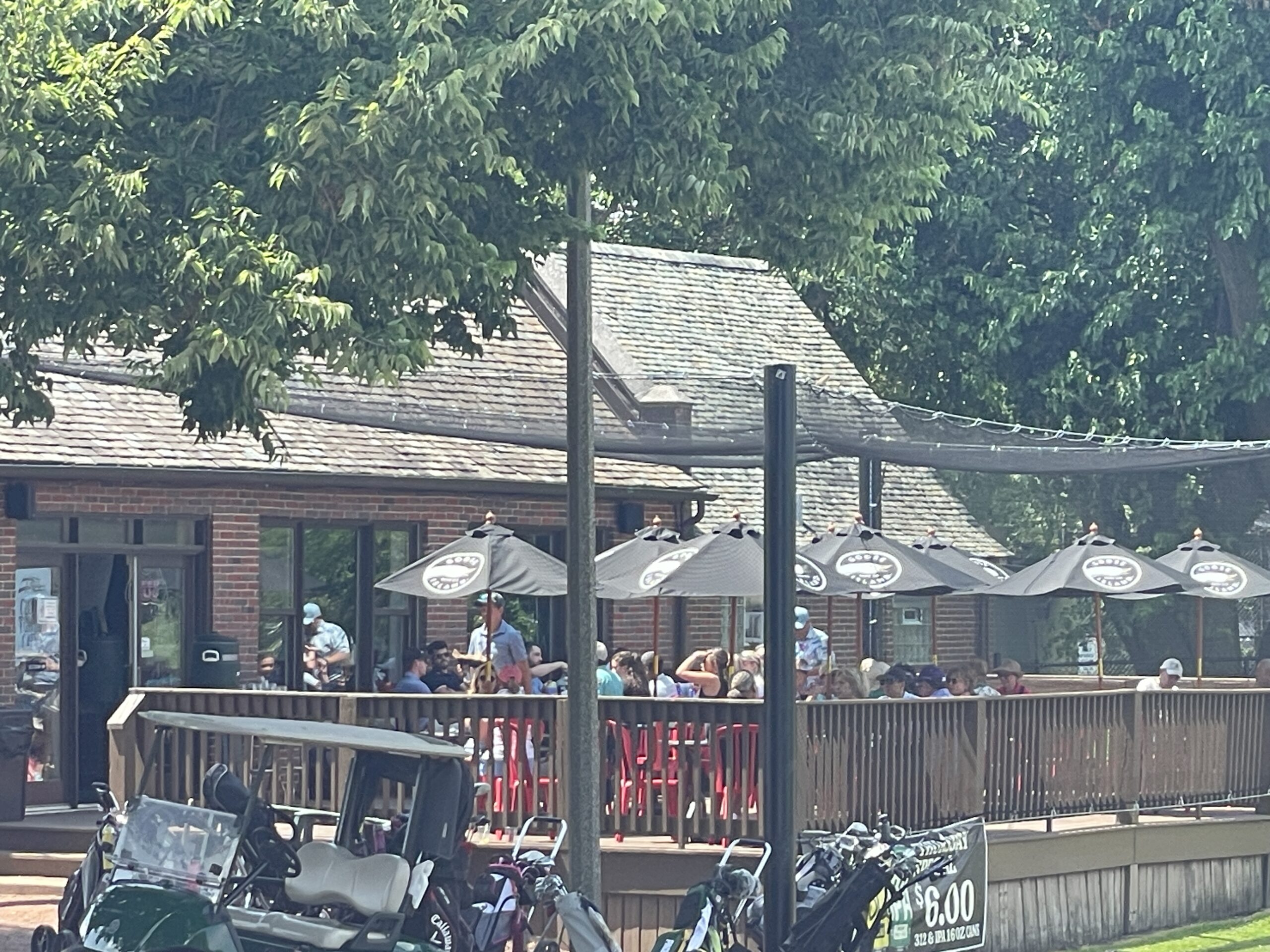 "Originally constructed in 1931, the Clock Tower Café was built alongside the Waveland Fieldhouse (currently the Sydney R. Marovitz Clubhouse), as a refreshment stand to accommodate the patrons of the surrounding golf course, tennis courts and ping pong tables." Today it is a casual café, owned by the Chicago Park District. They have a casual menu of drinks, sandwiches, salads, burgers and sides. I enjoyed a great cheeseburger on the outside patio with a friend who lives nearby, on a beautiful summer day.
When downtown for a theater matinee, I really enjoyed my lunch at the Tiny Tapp & Café, on the Riverwalk, which offers a menu of food, cocktails and coffee. I enjoyed the BBQ chicken flatbread and sitting along the river on a beautiful summer day. The service was also excellent.
Make sure to try the Willow Room, at 1800 N. Halsted, in the space formerly occupied by Black Duck Tavern & Grill. I went the first week it opened and enjoyed the food and atmosphere. I was just back before a Steppenwolf Theater play and thought the food was again excellent. They reopened in July 2023 after being forced to close for over six months due to damage caused by a water leak. I loved the beet salad, Key Lime Pie and the sea scallops. It was one of the best dishes I have had this year. The restaurant also has outdoor seating during the warmer months.
Also located in Lincoln Park is CSK Chicago, which opened in May 2023 in the former Centre Street Kitchen space. It is a casual restaurant that features a menu of hamburgers, chicken sandwiches, ice cream and milkshakes. It is a fun spot for local families to enjoy. I enjoyed my first visit where I tried a great cheeseburger with their CSK positivity sauce and fries. 1224 W. Webster.
Another fun casual spot nearby is Pequod's Pizza at 2207 N. Clybourn Ave. They are known for their Chicago-style deep-dish pizza with a caramelized crust. I have seen them on several lists as to having some of the best pizza in Chicago. In addition to deep-dish pizza, they have thin-crust pizza, appetizers, soups, salads, sandwiches, pastas and desserts. I had a great thin crust pizza and a salad with neighborhood friends. It has a warm, casual atmosphere. Reservations are accepted online.
Close to the Hotel Lincoln is Mesa Urbana at 1935 N. Lincoln Park West. I just went for the first time and enjoyed the experience. It is an attractive restaurant, with a creative menu of Mexican inspired cuisine, an extensive cocktail list and excellent service. I enjoyed meeting Ash the owner. They have a large outdoor seating area during the warmer months. I thought the salmon entrée with a tamarind glaze, mango, papaya and an avocado puree was really outstanding.
Recently opened is The Salt Shed, Chicago's new indoor/outdoor music venue located in the former Morton Salt plant. Across the street is the recently opened restaurant, 1308 Chicago. This is a small, colorful restaurant with a creative menu featuring fresh food and items made in-house. I went for lunch and enjoyed the food, service and experience. They have a lovely patio for the warmer months. It is the perfect location for a meal prior to a concert across the street. 1308 N. Elston.
In August 2023 Ballyhoo Hospitality, who owns Gemini and several others in Chicago, opened DeNucci's, at 503 W. Dickens, in the former Four Farthings Tavern & Grill space. DeNucci's is an Italian restaurant and pizzeria with a large menu of starters, pastas, salads, pizzas and entrees. I recently went for the first time and really enjoyed the experience. The tomato & buffala mozzarella salad was excellent along with the Maine lobster ravioli and a perfect tiramisu for dessert. They have a lovely outdoor patio during the warmer months.
At the north end of the Southport Corridor is Port & Park Bistro & Bar at 4000 N. Southport. This is a casual bar and restaurant in a vintage tavern setting with a lounge and patio. I was pleased to have found it and went for brunch with a friend who was visiting from Michigan. I loved being on the outside patio on a beautiful fall day. They have a large brunch, lunch and dinner menu along with cocktails. I recommend the California frittata with cheese, tomatoes, spinach and avocado plus breakfast potatoes.
Located at 1856 W. North Ave. is Firewood BBQ. Opened in early 2023, this is a casual, neighborhood sport that has a menu of salads, appetizers, sandwiches, platters and entrees. I went for their weekend brunch on a Saturday and was very pleased that I chose the smoked brisket benedict served on sourdough bread with greens, poached eggs and hollandaise sauce along with roasted potatoes. They also have food and cocktail specials throughout the week. It has a great atmosphere and service. They have three other restaurants including Ella's BBQ in Lincoln Park that I have enjoyed in the past.
Further north at 2748 N. Lincoln Ave. is Batter & Berries. This is a Black-owned restaurant that was established in 2012 by Dr. Tanya & Craig Richardson with a goal of supporting the community and local businesses. They have a focus on breakfast, lunch and brunch. I have been wanting to go for a while, but the lines have been very long. I chose to go on a Wednesday for lunch to make sure that I got a table. This a casual spot with a very friendly staff. I really enjoyed the spinach omelete made with spinach, mushrooms, a sundried tomato and spinach puree and Asiago cheese along with cheese crusted hash brown potatoes. The smoked salmon eggs benedict and the shrimp fritta specials also looked great.
I have lists of new places to try. I will keep you updated as I go and explore.